Apostolate of African American Catholics
The Apostolate of African Americans is a gathering of Catholics throughout the Diocese who are dedicated to the propagation of the evangelization of the Black Community throughout the Diocese of Bridgeport. They collaborate with other cultures and seek to bring the gifts of the Black Catholic Community to the universal Church.
They are involved in celebrating:
Black History Month (February)
Black Catholic History Month (November)
KWANZAA
The group also works in conjunction with the National Conference of Catholic Bishops / USCCB, the National Black Catholic Congress and in collaboration with several agencies within the Diocese of Bridgeport, the Office provides consultative ministry in the following areas: racial understanding, guidelines for receiving pastoral ministers, pastoral care of immigrants and refugees and understanding African culture.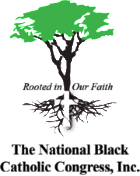 THE NATIONAL BLACK CATHOLIC CONGRESS
THE NATIONAL BLACK CATHOLIC CLERGY CAUCUS
For further information, please contact Rev. Reginald Norman, Pastor at Our Lady of Fatima, 229 Danbury Road, Wilton CT 06897 or e-mail pastor@olfwilton.org
Global Count of Catholics of African Descent: 270 MILLION *
Today the 270 million Catholics of African descent represent almost 25% of the one billion Roman Catholics throughout the world in more than 59 countries. There are over 3 million Black Catholics in the United States.
Praying the Ten Commandments in African Style
"Almighty God of my people,
I stand before you humbled in Your sight. You are our only God. There is none greater; none before you.
All things belong to You. You give to Your people, and You take from Your people. You are our provider and You are our judge. Your name is holy and is spoken in our hearts. No lips shall speak your name, so great are you above all things. We, Your people, shall keep holy all the days of our lives, for You are with us all the days of our lives. We shall do nothing to bring dishonor to each other, or shame upon our house. As we honor You, O God, so we honor ourselves. We shall not take what is not given to us, and we seek forgiveness if we have done so.
If I have offended someone I ask forgiveness.
To those who have offended me, I grant forgiveness.
I shall not speak ill of anyone. I shall not cause anger or take the life of anyone, even the life of my enemy. I ask forgiveness if I have done so. I grant forgiveness to those who have done so to me or my people.
I shall not cheat or lie to anyone. If I have done so I ask forgiveness and I grant forgiveness to those who have done to me or my people.
I shall not be envious of my tribesmen or of others. I shall not seek to have their possessions. I seek and grant forgiveness.
I shall remain faithful in my marriage. I shall provide for my family as it is my duty.
I shall bring no woman to shame or take from her that which is not given.
I shall be true to myself as I am true to You, my God, in this life, and I shall pass on to my children my prayers as we are Your people and You are our God.